Passionate El Segundo Attorney Represents Motorcycle Accident Victims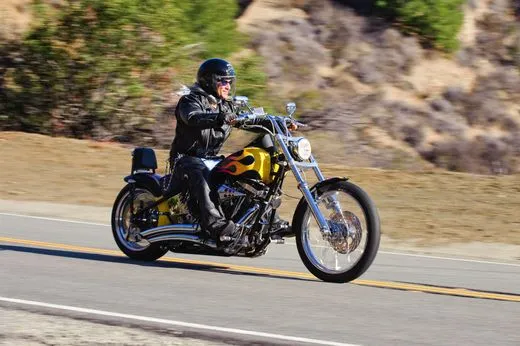 Attorney Sanford Jossen (above) has been riding motorcycles for more than 50 years.
Determined Los Angeles County lawyer seeks compensation for injured riders
At the Law Offices of Sanford Jossen in El Segundo, California, we are passionate about helping injured motorcyclists obtain compensation after accidents. A long-time Harley rider and avid motorcycle enthusiast, Attorney Sanford Jossen has an in-depth understanding of the factors involved in motorcycle operation and accidents. Our firm has earned a reputation for representing seriously injured riders during injury litigation and achieving strong results. Several local motorcycle dealers and custom motorcycle shops refer their clients to us.
Seasoned personal injury attorney advocates for motorcyclists hit by drivers
Motorcyclists sometimes must overcome the unfair stigma that they are not as safe as the operators of other vehicles. Because of this, law enforcement officers and insurance companies might assume a rider was to blame for an accident even when a fair assessment would show that fault lies primarily with someone else.
We investigate the potential fault of other parties in every motorcycle accident case we handle, and investigate common causes of collisions, such as:
Unsafe lane changes — Accidents frequently occur when drivers make unsafe lane changes directly into the paths of riders after failing to check their mirrors or blind spots. Though lane splitting has been legal in California for years, some drivers do not account for the possibility of a rider traveling between lanes.
Left turns — Motorcyclists are victims of left turn accidents all too often. Many of these accidents are caused by drivers who do not observe their surroundings before turning, or who misjudge the distance between them and an oncoming rider.
Failure to yield — Failure to yield the right-of-way to a motorcyclist is a factor in many side-swipe accidents. Driver inattention or recklessness may be to blame.
Distracted driving — A motorist who is paying more attention to their phone than the road can easily miss a motorcyclist in close proximity to the vehicle. Distracted driving is one of the most prevalent causes of auto accidents.
Defective parts and mechanical issues — A manufacturing flaw or mechanical error may make a bike unfit for the road. Unfortunately, riders might not be aware of the problem until it is too late.
Poor road conditions — Different municipal authorities are responsible for maintaining different roads in Los Angeles County. If a pothole, road debris, uneven pavement or other road issues contributed to your crash, we can help you identify the government organization at fault.
California uses the pure comparative negligence rule to determine who is liable for the damages in a vehicle accident. Fault for a crash may be split between several parties. An injured person can seek to recover damages from any at-fault party, but the total recoverable damages will be reduced by the injured person's own share of responsibility for their harm. We work to ensure that fault is assigned in a way that reflects what happened in the accident, rather than based on undue bias about motorcyclists.
Skilled California litigator pushes back against unfair fault determinations
Compared to people who drive cars or trucks, motorcyclists are significantly more prone to catastrophic injury after a collision. Direct impact with a multi-ton motor vehicle followed by direct impact with the pavement may cause multi-system trauma. Common motorcycle accident injuries include:
Paralysis
Traumatic brain injury
Leg fractures
Arm and wrist fractures
Broken ribs
Back and neck injuries
Road rash
Muscle damage
Chest and abdominal trauma
In many cases, motorcycle accidents are fatal.
It is important to know that even if you were not abiding by California's mandatory helmet law when your accident occurred, you are not automatically considered to be at fault. Whether or not a rider was wearing a helmet should not affect the liability portion of a personal injury or wrongful death lawsuit.
For informative answers to your questions and concerns after a motorcycle accident, you can count on our firm.
Contact a dedicated Southern California motorcycle accident attorney for a free consultation
The Law Offices of Sanford Jossen in El Segundo delivers strong personal injury representation for clients hurt in California motorcycle accidents. To schedule a free consultation with a dedicated legal professional, call 888-671-3718 or contact us online.